By Vincent Wigmans
During your search for the aircraft of your dreams, you will often see the term NDH, this term means No Damage History. In short, this means that during the lifespan of the aircraft it did not receive any damage. If this is not mentioned in the advertisement it is always wise to ask the seller/seller's broker if the aircraft has received any damage in the past.
An aircraft that received some damage during its lifespan does not have to be a showstopper, you first need to check what kind of damage it received and how it has been repaired. Based on this investigation you can decide what you should do, to give a better understanding about a damage history we explain it a little bit more.
An important factor in the repair of an aircraft is who repaired the damage. Damage that has been repaired by the OEM with new parts (and properly documented) will have another value then a repair that has been performed by a local mechanic with overhauled parts. Also does the value reduction depends on how many hours/years have been flown after the repair and if there are recurrent maintenance inspections coming from the damage repair.
Although the term damage history is not well defined, on the basis you can consider 3 types of damages.
Light damage
Removable items that have been replaced after damage will not have a big influence on the price of the aircraft. In short, any flap, rudder, aileron, wheel fairing, wingtip fairing, etc. that had some damage, but have been replaced completely should not lower the price.
Moderate damage
Any minor damage that has occurred but is not influencing the structural strength of the aircraft. As an example, this can be the skin panels or leading edges that are damaged but not the underlying structural parts where these panels are mounted on.
Heavy damage (Major)
Any damage that occurred and affected the structural strength of the aircraft can been seen as Heavy (Major) damage. This can be damage to the firewall, pressure cabin, engine mounts, wing spar, etc. For these repairs, the maintenance facility (mostly) needs engineering assistance from the aircraft manufacturer.
To evaluate the value reduction many people are using the below Vref damage history chart. This is a general guide for aircraft with damage history.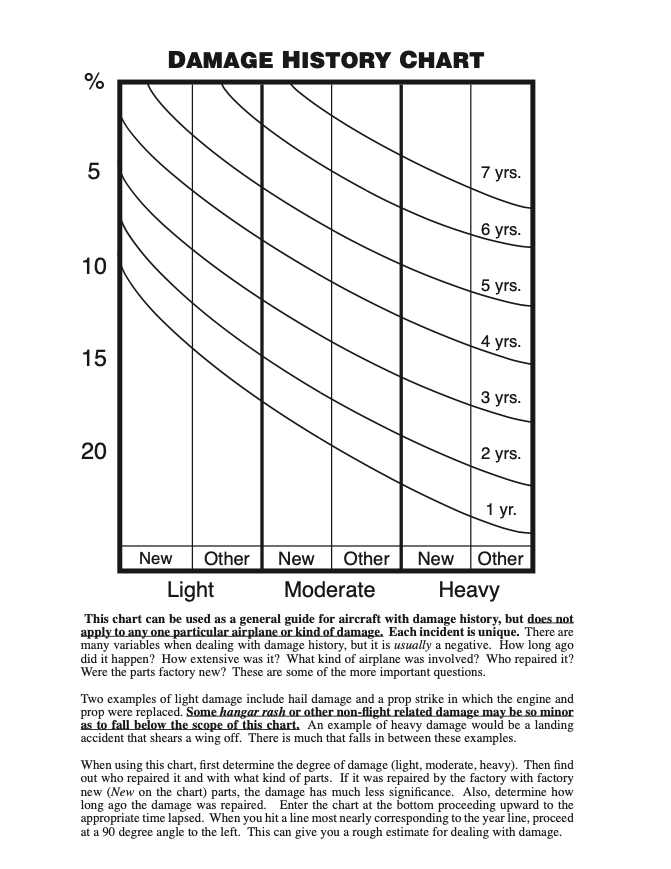 Aircraft damage is still one of the most confusing aspects of the aviation industry. This confusion is often caused by the various evaluation methods and the supply of aircraft documents. Next to this, you should keep in mind that the interpretation of damage can be different for each person.
If it is not your daily business to buy aircraft, it is best to consider an aircraft broker who can assist you with the purchase of your preferred aircraft. A professional aircraft broker can evaluate the full aircraft history and see if some damages would influence the price of the aircraft. An aircraft broker can also see if this damage history would influence the future resale of your aircraft.
If you are planning to buy an aircraft and you need help, please contact us at sales@faaircraftsales.com. You can also call us on +31 (0)15 820 0999.